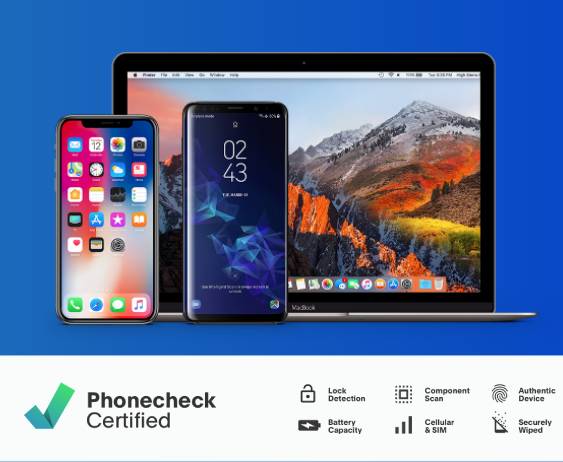 Tech Reboot Sells PhoneCheck Certified Devices
When you buy an iPhone from Tech Reboot, you won't have to worry about imperfections caused by its previous owner, thanks to our expert repair technicians and official certification tests.
Every Mac, Android, iOS, and PC device sold is PhoneCheck certified, meaning all components are tested and passed before it is ready for purchase.
According to PhoneCheck, it is the industry standard in used device certification.
PhoneCheck Certifications:
Lock Detection,
which checks for manufacturer, carrier, and software locks.
Diagnostics,
which is a computerized component functionality scan.
Battery Health,
which checks a battery's capacity to receive and hold a charge.
Authenticity,
which calls for replacement parts and a background check.
Cellular Service,
which checks the SIM card and places a test call and SMS message.
Erase and Reset,
which performs a secure data wipe and reset to factory settings.
There are dozens of other specific tests done by PhoneCheck to ensure that you end up with a device in excellent condition.
If there is ever a time when a component of a device fails a test, such as Touch or Face ID, Tech Reboot will inform you of the hiccup before purchase. Many times, these types of phones cost significantly less than others.