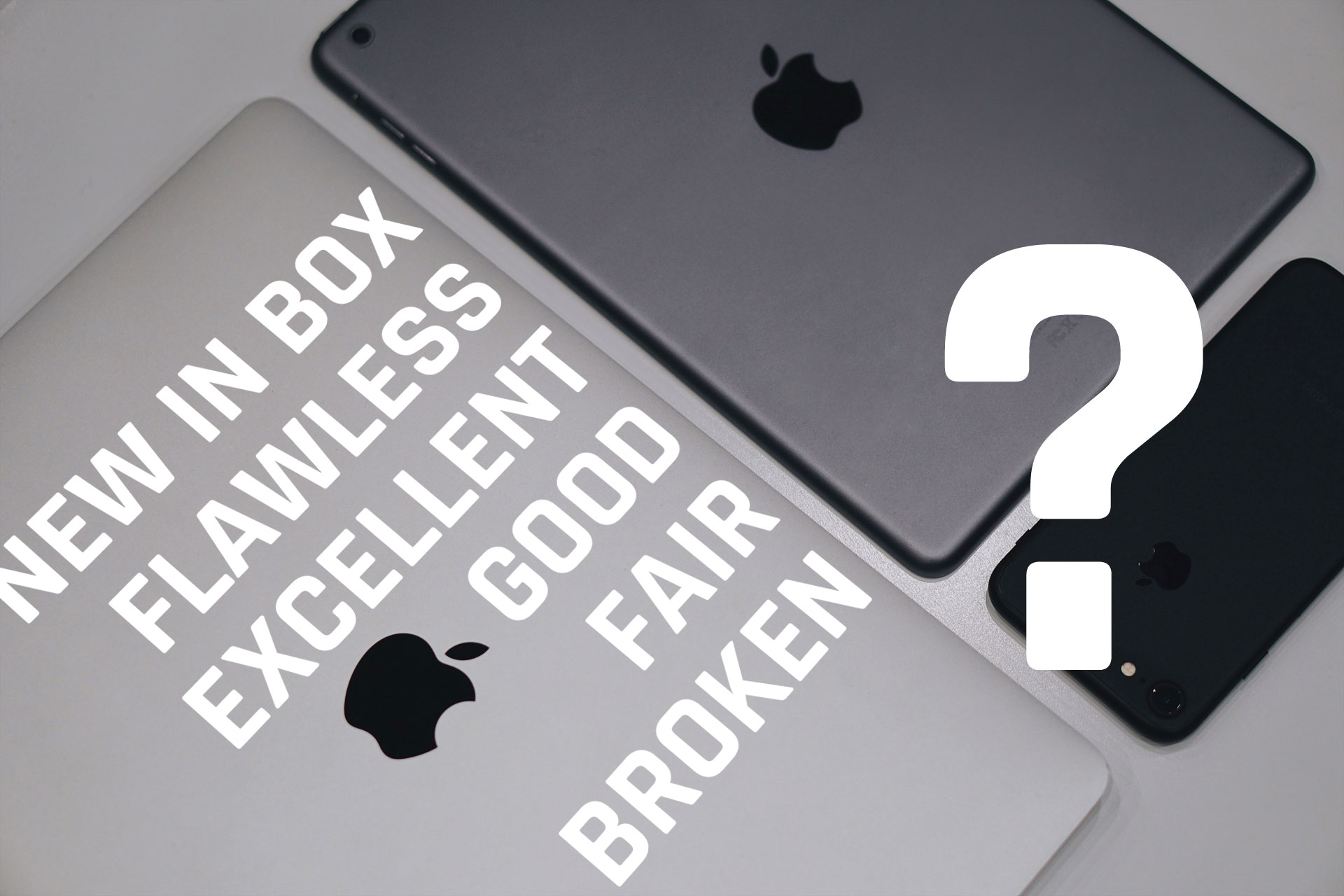 How does grading of my phone, tablet, or computer work?
Posted on
14th Oct 2020 16:59:15
in
Selling
The time has come to sell your device. The question will arise of how do you determine the condition of your phone, tablet, or computer. What may be perfect condition to some, will in fact be average/good condition to someone else. It's super important to make sure that accurate grading is achieved selling your device.
Devices come in all sorts of grades and conditions. Grading is a key factor when it comes to making sure that a device is purchased at the correct price, for both the consumer and the business purchasing and reselling the device. If a device is mis-graded, then the person(s) selling the device could either make out great, or not so great.
At Tech Reboot, we keep our grading scale quite simple and straightforward.
How do I make sure I pick the right grading of my device?
We want you to get the most accurate value quote as possible. This makes it easier to keep your payment predictable and for us to keep you happy with your Tech Reboot experience. To that end, we have created a grading key, shown directly below, that anyone can use to provide a reliable device condition.
Grading Conditions
New In Box
This refers to a device that is sealed in box and never been used. It must have the original seal, all accessories, and packaging. This type of device will yield to the customer the highest amount of return.
---
Flawless
This will indicate that the device is in perfect, mint condition. There are no scratches and the device shows signs of no use.
---
Good
A good condition device will show normal signs of wear and will have scratchs, light nicks, minimal(if any) dents. Wear around the charge port will be present. All key functions should work perfectly, including, but not limited to FaceID, power button, volume up and down, speakers, ear speaker, cameras, wifi, and blue tooth. The device should be free and clear of any liquid damage.
---
Fair
A fair condition device will show heavy signs of use which includes scratches on the frame and housing, the front glass will have scratches but no cracks, and the back will have scratches, nicks, or dents, but no cracks or separation.
---
Broken
A broken device will have a key function or item that does not work. The device may have cracked front glass or back glass. Power button, volume up or down buttons may not work. There may be other issues with the device. The device must be free and clear of any iCloud/Google locks.
---
No Power
A device that shows no sign of power will not turn on when trying to charge it or press the power button. The device may have board level issues that are not easily repairable. A no power device may also have other features that may be broken, like a cracked screen or broken back glass.
---
Questions about your device's condition?
Majority of the devices that we receive at Tech Reboot arrive in good or fair condition. We do our best to ensure accurate descriptions, which ultimately help our customers pick an accurate match to their device that they sell.
If you have any questions regarding your grading as you're purchasing a device, please feel free to reach out and ask, we'll be happy to accommodate.
Photo by Oleg Ivanov on Unsplash